Athletic trainer Tim Harkins says goodbye to California HS
As athletes scramble to the locker room to get changed for practice, athletic trainer and ROP Sports Medicine teacher Tim Harkins hops into his golf cart after teaching, ready to switch into the role of athletic trainer and turn his attention to the line of players waiting to be evaluated.
Harkins became the athletic trainer in fall 2014 following two six-week internships during college and a season-long internship with the Oakland Raiders after college. Those experiences along with his time at Piedmont have allowed him to hone his skills as a trainer, Harkins said.
After stepping out of his comfort zone and giving teaching a try, he revived the sports medicine class this year. In his two years at Piedmont, Harkins has found his home and said he has practically lived on campus for the past year. At the end of the school year, he will pursue a Master's Degree of Physician Assistant Studies at Marshall B. Ketchum University in Fullerton, CA.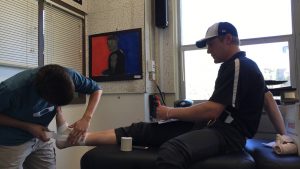 "Working on a high school level where it's just me and I have no one to fall back on for help, it's given me a very interesting point of view of the practice of medicine in general before I take the next step to go get my master's," Harkins said.
Senior Gabe Watson, who tore his ACL earlier this year, has gotten to know Harkins in class and on the football field. Harkins helped Watson through the healing process of that injury as well as other smaller ones over the past two years.
"I decided to take sports med because I knew Tim was going to teach it and being on the football team, I knew knew him pretty well," Watson said.
The sports medicine class has been important in teaching student athletes such as Watson and senior Tess Olcott how to identify and take care of injuries and learn how to prevent future injuries.
"As a first time teacher he understands that we get antsy so he's not huge on lectures, but more tries to keep us engaged and make connections to what we see at Piedmont High and in the news and sports," Olcott said.
Harkins makes the class interactive and includes demonstrations. The class is both informative and fun because Harkins is always energetic about what he is teaching, Watson said.
Harkins, a first year teacher, has been able to relate to students as a former high school athlete, as a teacher and as a trainer, said head varsity women's lacrosse coach Emily Hook. Also a first year teacher, Hook went through new teacher orientation with Harkins.
"He's really passionate about making lectures interesting for kids or throwing different things at them," Hook said.
On the field, Hook said that Harkins has been a resource of knowledge for her players. He checks in with all players who have seen him with recent injuries and stretches or tapes them if they need it before playing.
Although Olcott will leave, she said his dedication to students and coaches will be missed.
"He works really hard to keep those relationships going and making sure that everyone feels comfortable with what he's doing at the school," Olcott said.
Hook, who has coached at three other schools with athletic trainers, said she has not had a trainer who is better with communication among players, coaches and parents than Harkins.
In his two years at Piedmont, Harkins has made an impact on all sports, Watson said.
"He'll come in and do workouts for different teams before school," Watson said. "He doesn't get paid for that, he does that out of the goodness of his heart."
He is on campus for all home games and has traveled to away games with basketball, lacrosse and soccer during playoffs when he was not needed at home.
"He's just someone who really cares about the student athletes, which makes it a much more safe environment for us to be able to play," Watson said. "We know we have someone there who actually cares about us and will help us get better if we do get injured."
Although he worked at high schools in college, Harkins never predicted that he would work with high school students as an athletic trainer.
"It just so happened this was an opportunity that kind of fell across my plate," Harkins said. "After having worked here for two years, and this is something that maybe after grad school I could definitely see myself coming back to — working at a high school at least in some sort of capacity."