Montana Athletic Trainer Receives Special Honor
Article reposted from The Missoulian
Author: Bill Speltz
Tori Stahl figured someone was pulling a prank.
It happens to her semi-regularly, so it made perfect sense. Only for some reason her pals didn't take time to come up with a believable premise this time, opting for a cockamamie email from Tennis magazine informing Tori that someone wanted to feature her in a write-up.
"This person said she wanted to do a story called "Fifty Heroes in 50 States" for their end-of-the-year issue," recalled Stahl. "I ignored it. Then she called me and I still ignored it.
"By the second phone call I finally answered."
This was no gag. The longtime Missoula Big Sky athletic trainer was targeted for the article because of her amazing odyssey as a tennis player.
It's the type of tale that would make a good movie. Tori went from No. 1 player for the University of Montana to barely capable of swinging a racket with her right arm to inspiring others with her unsinkable spirit.
As a Grizzly sophomore she suffered a torn flexor tendon in her serving elbow. It healed wrong so she had an operation that proved disastrous because the doctor took off too much bone and tore a ligament. Things got so bad she sought medical attention at the Mayo Clinic, where they agreed to operate on the condition she never use her right arm for tennis again.
A friend suggested she start playing with her left arm. Tori dismissed it as kooky talk — at least initially.
"I grumbled," said the amiable 46-year-old, who has had three Tommy John procedures. "Then I just started hitting against the wall in the gym with my left hand. That's how it started. Three months later I played my first tournament, entering the lowest divisions."
"I was horrible. I didn't have a serve and I had to wear this huge brace on my right arm. People were freaked out they were playing me."
So many successful athletes just up and quit when they're no longer able to perform up to expectations. Sometimes it's just too painful physically and other times it's the blow to their ego that's too much to bear.
Tori is here to tell you a life spent trying to protect your legacy is a life wasted.
"At first when I was coming back, the meltdowns were like of nuclear proportion," she confessed. "I'd get so frustrated I would just start crying. Like I don't need this stress. This is too hard.
"Then it would pass and I would start all over again. That fire was burning so hot in my heart."
Over the years this sports scribe has covered countless athletes and coaches who seem to be fueled by praise. After a while they get easier and easier to spot.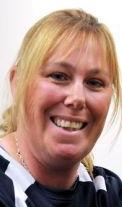 Then there's others who find joy in athletics for reasons that have nothing to do with ego. Sometimes it's the simple act of hitting a ball or hustling down an overhead. Sometimes it's something much, much more fulfilling that has nothing to do with skill level or success.
Tori found it when she jumped back in the fray in 2004. Now she's never letting go.
"Because of the level I played at (in college), I could never play in any of our local tournaments," she said. "I didn't know anybody. There was a huge contingent of local players and I knew very few of them.
"Having my teeth and claws removed turned out to be a good thing. The friendships are far more important than being a champion. They're not going to remember I was a high school All-American 30 years ago. But the friendships last forever."
Stahl's arthritic right elbow never stops hurting. But she plays every tournament she can, still with the enthusiasm of a high-schooler, still enjoying everything from the intensity of heated competition and time spent taking lessons from her old college coach Kris Nord to playing in front of her No. 1 fan (mom) and the simple act of putting on her favorite tennis skirt.
As for that Tennis magazine article on newsstands now, Tori still doesn't understand why in the heck they chose her.
"It's extremely humbling," she said. "I can think of 20 people off the top of my head that are far more deserving."
So many are blessed with talent. To get the most joy out of it, it helps to take Tori's approach, grateful every day for a gift on loan.