Army Veteran Finds Career as Athletic Trainer
Article reposted from The Huntsville Item
Author: JP McBride
Shawn Mathiews knew he wanted to be an athletic trainer when he was a student at Baylor University in the early 2000s. However, the sight of the two hijacked planes crashing into the World Trade Center's towers on Sept. 11, 2001, led him to leave the life of a college student behind and join the U.S. Army.
"My best friend, he was in the Air Force ROTC at Baylor and I remember waking up one morning and walking to class and his apartment was on the way," recalled Mathiews, who works for Huntsville Memorial Sports Medicine and is contracted to work as an assistant athletic trainer at Huntsville High School. 
"His door was open," Mathiews added, "so I would always go in and say hi to him. He said to come in and I watched the second plane hit the tower. I got pretty pissed off. I started, in my mind, going, 'America needs to get back at these people,' and all that kind of stuff. Then I realized I was wanting other people to do it. So I decided, 'I'll go do it myself.' I went to the recruiter and got in line."
Mathiews initially wanted to join one of the U.S. special operations forces, but a knee injury kept him from doing that.
Having seen his roommate join the military as a lab technician, Mathiews decided to apply to become a lab technician, even though he knew nothing about what the job entailed.
After working as a lab technician for about four years, Mathiews became a medic who specialized as a physical therapy technician — which he strived to be when he joined the U.S. Army — and was deployed to Afghanistan.
Stationed at a forward operating base in Paktika Province, which is located in a Southeastern portion of Afghanistan that Taliban forces used as a major route to enter the country from Pakistan, Mathiews treated gruesome injuries inflicted upon his comrades.
"Our (area) was not the worst, but it was a pretty bad area just because we had those people coming through," Mathiews said. "I've seen a lot of horrific things, obviously a lot of blast wounds, a lot of burn wounds, some white phosphorous wounds."
In the midst of the horrors of war, Mathiews would find joy in helping his fellow soldiers and the local civilians recover from their injuries and ailments, particularly the local children whose lives were impacted by the violence.
"When you're surrounded by the crap that adults do … then you get the kids in and the kids are pretty much pure, you get to see that little bit of humanity," Mathiews said. 
"When the world is falling apart around you, (it's comforting) to a see a child who doesn't judge you or hate you yet — I say yet because a good majority end up hating you. But you get to see (the innocence) from them and you can kind of lower your guard. You give them Popsicles and suckers and they think you're the coolest person in the world. It's that window of humanity in the fog of war that keeps you sane."
Mathiews was honorably discharged from the U.S. Army in 2011.
Mathiews' wife Virginia, a teacher at Huntsville's Stewart Elementary School, convinced him to go back to school while he was in Afghanistan, though he had to start as a freshman again because the degree plan he had been working through at Baylor was no longer offered. He earned his bachelor's degree from UT-Arlington in May of 2013 before joining Huntsville ISD in August of that year.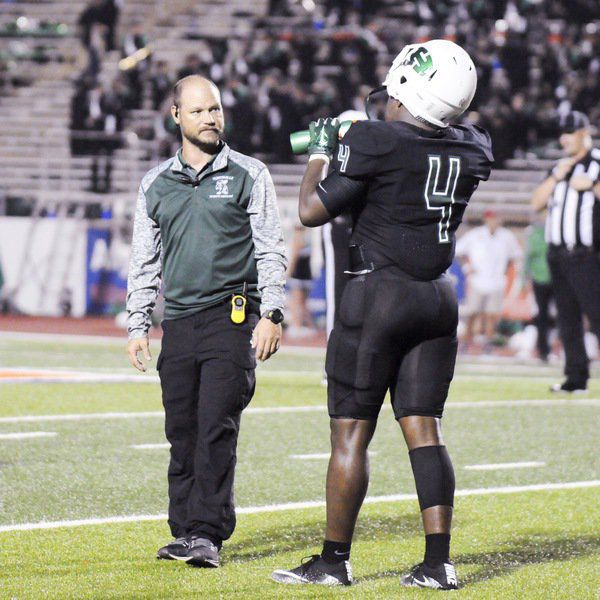 The training Mathiews received and the knowledge he acquired during his time in the military prepared him well for helping high school athletes avoid and recover from injuries.
"One of the biggest advantages of having (military) experience in this field is I know what's going to kill you and I know when things are dangerous," Mathiews said. "I also know when (an athlete) needs to suck it up. 
"We have a unique job being athletic trainers because in the medical field, you do what's best for the patient. In athletic training, you do what's best for patient while still trying to help them compete. (When) somebody rolls an ankle, the safest thing for them is to not run on it. In our field, we're trying to get you to run on it, so we'll tape you together and all that kind of stuff."
Mathiews said his military experience makes his job challenging at times, however, as he has to be more patient with high school athletes who aren't able to tolerate the same pain a soldier trained for the harshest conditions can.
"I know the capabilities of the human body and sometimes I apply that to the kids unfairly," Mathiews said. "Sometimes my expectations are a little out of whack with what they are capable of. I've got to remind myself sometimes that these are kids."
With Saturday being Veterans Day, Mathiews encourages relatives and friends of veterans to get together with them this weekend and let them know how important they are.
Mathiews knows the difficulties veterans face when readjusting to civilian life. Simply taking time to talk with former soldiers can make a huge difference in their lives.
"It's a day for civilians and veterans to celebrate those who have and are serving, but you can't get away from the reminder of your friends (you served with)," Mathiews said. 
"I usually spend most of the day just calling friends because we have 22 veterans a day killing themselves, including several hundred that I call friends. I call all my friends and make sure that they're doing OK, get a beer with them and invite them over for a barbecue, just to make sure they're not alone."