Athletic trainer Henry Perez-Guerra always has players' best interests in mind
Article reposted from Wisconsin State Journal
Author: JIM POLZIN
Part of Henry Perez-Guerra's job is to be the bad guy when necessary, and yet he's considered one of the good guys in the University of Wisconsin men's basketball program.
That speaks to the level of respect the Badgers' longtime athletic trainer has earned from players and coaches alike.
Case in point: When Perez-Guerra told Bronson Koenig during the stretch run of Big Ten Conference play that it was time to sit out a game to rest his ailing calf, the senior point guard wasn't happy to hear that opinion. But he didn't hold a grudge because he knew Perez-Guerra was looking out for Koenig's best interests.
"He's the best at what he does," Koenig said Thursday, "and he was just doing his job and protecting his players."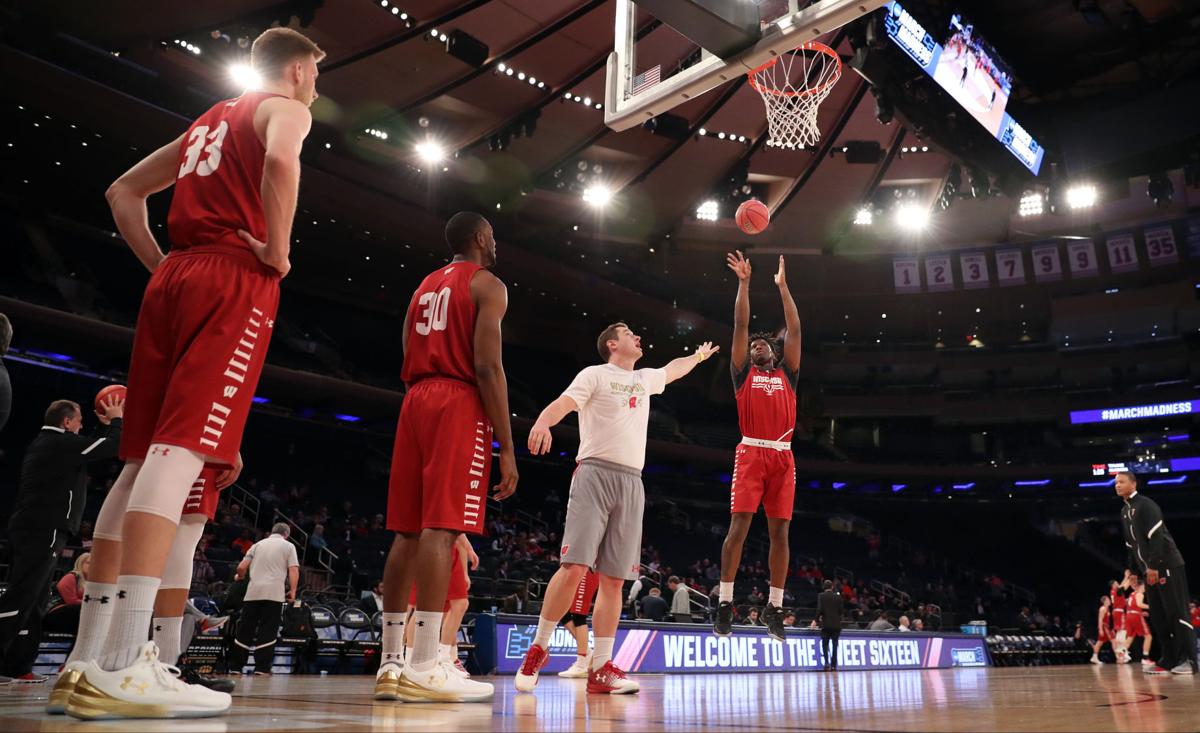 In retrospect, the decision to sit Koenig at Michigan on Feb. 16 appears to be a wise move. Sure, Koenig was frustrated as he watched helplessly from the sidelines while the Badgers dropped a 64-58 decision to the Wolverines that night, but the rest was exactly what Koenig needed.
He returned the next game and has been a huge key to the Badgers' postseason success. There's no way UW (27-9) is still playing — it meets Florida (26-8) tonight in an NCAA tournament East region semifinal at Madison Square Garden — without a healthy Koenig in the lineup.
Since sitting against Michigan, which gave Koenig a full week between games, he's averaged 17.3 points and shot 42.9 percent (36-for-84) from 3-point range in 10 games. In two NCAA tournament wins, Koenig has averaged 22.5 points and connected 11 times from beyond the arc.
"It's turned out great," Perez-Guerra said. "I'll fall back to what a medical staff is supposed to do, it's the big picture. It's not one game."
Big picture
Back in mid-February, Perez-Guerra didn't know if one game would be enough.
Koenig had strained his calf against Penn State on Jan. 24, which ended a stretch in which he shot 57.5 percent (23-for-40) from 3-point range through the first seven Big Ten games.
After the injury, Koenig wasn't himself. He shot 22.6 percent (7-for-31) from beyond the arc over the next five games.
It wasn't the shooting slump that bothered Perez-Guerra the most. It was how Koenig was moving in practices and games.
"Specifically, was he able to cut hard?" Perez-Guerra said. "That's where we kind of felt like he wasn't quite the same. He wasn't cutting hard off the screens. From a functionality point of view, I watch practice probably different than somebody else might watch practice. I watch how their bodies are moving. I know what the affected (body) part is, so I can sort of zero in on that and decide. Bronson just wasn't the same."
Perez-Guerra is in constant consultation with Dr. John Orwin, the team physician, and the decision was made to hold Koenig out of some practices. Eventually, they began to consider the option of keeping him out of a game; the injury wasn't getting worse, but it wasn't getting any better, either.
Finally, after Koenig went 1-for-8 overall and 0-for-5 from 3-point range while being held to two points in 30 minutes during a home loss against Northwestern on Feb. 12, Perez-Guerra thought the time had come to sit Koenig. After a physical examination the morning of the Michigan game, Perez-Guerra had a heart-to-heart with Koenig and they both agreed that sitting out was the best option.
"It's always a difficult thing to do when you've got to tell somebody they can't play — and it's a senior," Perez-Guerra said. "At that point in time, it was an important game. They're all important, but that one had a little extra meaning. But in the world of sports medicine, as team physicians and athletic trainers, that's what our job is to do is to help them make decisions that are going to benefit them in the future."
Perez-Guerra considers it a major part of his job to educate players on injuries. That's what made the decision easier to accept for Koenig, even though he had never sat out a game because of injury in his life and certainly didn't want his first time to come with the Badgers in the midst of a Big Ten title race.
"I think we made the right decision," Koenig said. "Taking a little bit of time to rest and heal my body. I definitely felt a lot better after it, I could move better and wasn't nearly as sore."
Notice the use of "we" by Koenig. When he says he's that, he's referring to a group that includes Perez-Guerra, Orwin and the player. Much less involved in the decision-making process are UW coach Greg Gard and his staff.
'The boss'
Does it get contentious between Perez-Guerra and players at times? Absolutely.
But Perez-Guerra understands that a large part of UW's success over the years is because the program recruits competitive, blue-collar players. The kind of players who want to be on the floor for an important game, as was the case with Koenig at Michigan.
"I'd be pretty disappointed if somebody didn't come and yell at me a little bit and get on me a little bit for that," Perez-Guerra said. "You've got to have a little thick skin every once in a while. Bronson's not the first student-athlete that's been mad about it and he won't be the last.
"But you can't waver. Sometimes, yeah, you've got to be mean about it and just say, 'Hey, look, we're doing this for your best interests.' There are times when you've got to do the right thing for the student-athlete. They're competitors and they want to do whatever it takes to get on the floor and play, and sometimes the answer is no."
Just ask UW assistant coach Joe Krabbenhoft, who played for the Badgers from 2005-09. While Krabbenhoft appeared in all 136 games during his four seasons at UW, there were times that Perez-Guerra forced him to sit out practice.
"As a competitor and a player, you feel like you can play through pains and aches and injuries," said Krabbenhoft, who battled through injuries to his feet, ankles, knees and back. "But only the medical personnel know what's really best for your body and for your future.
"When you're young and you're 18 to 22 years old, sometimes you're too stubborn or hard-headed, you think you know everything and have all the answers. But ultimately, he's the boss and when it comes to decision-making time, he's got a track record that proves he's made the right decisions every single time."
In other words, sometimes Perez-Guerra had to be the bad guy. But even one of the players Perez-Guerra argued with the most considers him a really good guy.
"Absolutely, and it's not just give-you-what-you want nice," Krabbenhoft said. "At the end of the day, people say he's nice because he cares about you. He won't tell you what you want to hear, but what you need to hear. He truly cares."